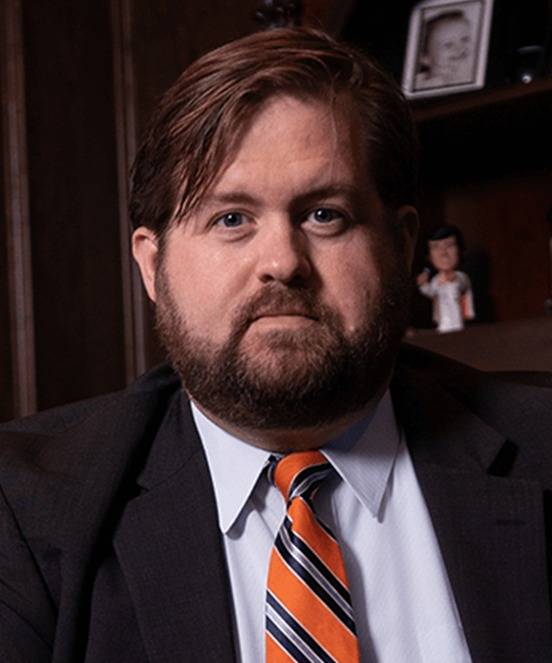 Brian A. Bolton
Position:

Criminal & DWI Defense Attorney

Experience:

19 Years

Location:

Dallas Parkway

Email:

[email protected]

Phone:

(972) 233-5700
Denton Criminal and DWI Defense Lawyer
Brian A. Bolton was hired by the Dallas County District Attorney's Office upon graduating from Texas Wesleyan University School of Law. He quickly developed a reputation in the Dallas County courthouse as one of the most thorough, aggressive prosecutors. Brian was named Chief Prosecutor, where he was responsible for the mentoring of younger Assistant District Attorneys, and where he trained police officers on how to properly conduct DWI investigations, how to testify in court hearings, and how to gather evidence to build cases against DWI suspects. After some 18 months in the Misdemeanor Trial Division and having represented Dallas County in thousands of misdemeanor offenses, Brian was promoted to the Felony Trial Division, where he represented the State of Texas in hundreds of felony cases.
In late 2004, Mr. Bolton left the Dallas County District Attorney's Office to begin a private criminal defense practice that focused on DWI and other intoxication-related offenses. Since that time, he has gained a reputation among his colleagues as one of the premier up-and-coming criminal defense lawyers in the Dallas/Fort Worth Metroplex, and has been acknowledged by his clients, prosecutors, police officers, fellow defense lawyers, and the judges themselves, as a tenacious, unrelenting trial lawyer with the uncanny ability to win even the most complex cases, with a winning record to show.
Because of Mr. Bolton's ability to conduct a winning DWI jury selection, and because of his ability to vigorously cross-examine the arresting officer, several prominent DWI lawyers have called upon Mr. Bolton to assist them with their own jury trials.
Mr. Bolton has handled thousands of criminal offenses in state court, including Drug Possession offenses, Drug Manufacturing/Delivery offenses, Theft and Fraud offenses, Weapons offenses, Assault offenses, Burglary offenses, and Drivers License offenses, Intoxication Manslaughter, Municipal citation offenses, and other offenses. During this time, however, his primary area of practice has been DWI.
In 2008, Brian A. Bolton joined forces with Richard C. McConathy, a fellow defense lawyer and colleague from law school. He will continue to get the best results possible for each individual client. Mr. Bolton attended Texas A&M University – College Station, and the University of Memphis, receiving his Bachelor of Arts Degree in 1998. Mr. Bolton has received the Eagle Scout award from the Boy Scouts of America, and he is an active member of the State Bar of Texas, the Texas Criminal Defense Lawyers Association, the Dallas Criminal Defense Lawyers Association, and the College of the State Bar of Texas. He is licensed to practice in the State of Texas and is licensed in Federal Court in the Northern District of Texas.
Areas Of Practice
Domestic Violence
Aggravated Assault
Assault
Litigation & Appeals
State Appellate Practice
State, Local & Municipal Law
Bar Admissions
State Bar of Texas, 2002
U.S. District Court Northern District of Texas
Education
Texas Wesleyan University School of Law, Fort Worth, Texas J.D.
University of Memphis, Tennessee
TAMU, College Station, Texas B.A., 1998
Professional Associations and Memberships
State Bar of Texas
Texas Criminal Lawyers Association
Dallas Criminal Defense Lawyers Association
Contact With Brian A. Bolton